We are Family. We are Different
About Us: A series about the evolution of life on Earth and Human evolution to understand better who we are.
Further to The Human Body Inside & Out success, Cristina Junyent  & Cristina Losantos present another pair of titles to explain how we are all related and how we are all different.
We are Family
What is the origin of the Universe, the solar system, the Earth and the Moon? How does life seem to have started? And how did it come to have such diverse forms? You will discover how mammals and primates first appeared on Earth.
Thanks to tools and fire, the first humans came to populate the entire planet. What path did they follow to reach the different continents? When did it happen? We will see how it can be that humans, despite being apparently so different, have a common origin.
We are Different
Why does the distance to the Sun allow life to exist on Earth? How is it that light and rain determine the different regions of our planet? How have humans adapted to each environment? We all look different depending on where our ancestors were born. And thanks to the fact that they learned to use the different resources in each place, we have come this far! Human skill has allowed us to change our environment and make machines to do the most arduous tasks.
Human Body Inside & Out rights sold: French, Indonesian, Polish, Romanian, Russian, S. Chinese, T. Chinese and Ucrainian
About Us Series
by Cristina Junyent. Illustrated by Cristina Losantos
28.5 × 19 cm | 36 pages | Hardback with flaps | Ages 5 +
Publication: September 2021
CRISTINA JUNYENT has a degree and doctorate in Biology from the University of Barcelona and a master's degree in Science Communication from the Pompeu Fabra University (Barcelona). She is founder and director of the Science in Society Foundation. She has published several books and writes articles for La Vanguardia, Mètode and Transversal, as well as being editor-in-chief of the journal Omniscellula, published by Catalan Society of Biology, an affiliate of the Institute for Catalan Studies. Furthermore, she has worked in several TV educational programmes and is a member of the Catalan Association for Science Communication.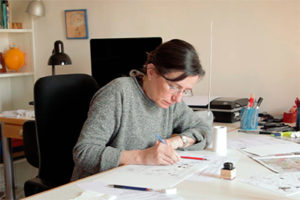 CRISTINA LOSANTOS After a few years of teaching and since 1985, she has been exclusively dedicated to professional illustration.
She works for many publishing companies, in Spain as well as in other European countries. And regularly collaborates in newspapers and magazines, such as Cavall Fort and El Tatano.
In 1998 Cristina won the 2nd National Prize for Illustration, awarded by the Ministry of Culture. In 2007 she was awarded the 1st Prize in the contest "Graphic Humour and Sport" sponsored by the Catalan Sports Foundation.
Besides The Human Body Inside Out she has illustrated Hey, Not so fast published by Combel. Cristina is also the illustrator of the bestselling Victory series, published by Bambú.