Experience the joy of Christmas in this picture book by Cristina Losantos.
The First Christmas retells the origin of the first Christmas, the true inspiration for so many cultures and traditions.
The engaging text, accompanied by the amazing illustrations by Cristina Losantos, is an introduction to the Nativity story that sticks to the Gospels of Matthew and Luke in the New Testament.
The First Christmas offers  families a new and special way to celebrate Jesus' birth.  It is perfect to read aloud during the festive season and beyond.
To bring the history closer to today's children, at the end of the book you will find further information about the different ways we celebrate Christmas and the traditions worldwide inspired by the Nativity.
Share the true meaning of Christmas with us!
The First Christmas
by Raimon Carrasco. Illustrated by Cristina Losantos
26 × 23 cm | 32 pages |Hardback | Ages 3+
Publication: September 2023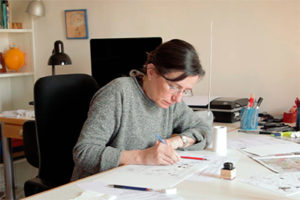 CRISTINA LOSANTOS After a few years of teaching and since 1985, she has been exclusively dedicated to professional illustration.
She works for many publishing companies, in Spain as well as in other European countries. And regularly collaborates in newspapers and magazines, such as Cavall Fort and El Tatano.
In 1998 Cristina won the 2nd National Prize for Illustration, awarded by the Ministry of Culture. In 2007 she was awarded the 1st Prize in the contest "Graphic Humour and Sport" sponsored by the Catalan Sports Foundation.
Besides The Human Body Inside Out she has illustrated Hey, Not so fast , the series I Spy with My Little Eye...and also the illustrator of the bestselling Victory series, sold into 16 languages.