An international successful series on personal growing
Twelve years have passed since we launched the first title of the "Victory" series and it has become an international successful series.
Since then, 10 titles have been published, has been translated into 13 languages, and keeps spreading worldwide with every new title.
We are now delighted to add the series to the Combel catalogue with the
publication 11th title: Good Morning, Sleepyhead!
In this collection of short stories on personal growing, each title tackles a key issue for this age group in a very funny and easy-going way: selfishness, sincerity, personal hygiene, good manners, nightmares, violence, swearing, consumerism or hyperconnectivity. Simple and easy to understand, texts come with amazing illustrations by Cristina Losantos to stimulate the imagination.
Good Morning, Sleepyhead!  
A story to wake you up happy and ready for the day! 
Mercedes doesn't like to get up early. She wakes up grumpy and doesn't say a peep to anyone.
She may looks like she is angry, but she is just a cranky morning person that wakes up on the wrong side of the bed every day. Until her best friend Matilda spends a few days with her.
How will Mercedes handle the situation? And Matilda?
Victory Series
by Elisenda Roca. Illustrated by Cristina Losantos
16 x 21 cm | 48 pages | Hardcover | Includes bookmark | Ages 7 +
Rights sold: Czech, Danish, English (Aus), Farsi, French, Greek, Italian, Korean, Maltese, Polish, Portuguese, Russian, S. Chinese and Turkish.
ELISENDA ROCA is a journalist and writer. She has worked in radio and television, as well as in the press.
She has published successful parenting books, books for YA and for the little ones. Her most recent titles include outstanding illustrated books published by Combel such as the series You and I and Mía Fantasía.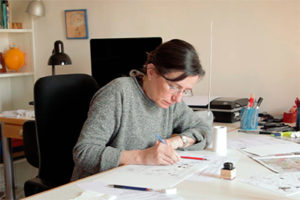 CRISTINA LOSANTOS After a few years of teaching and since 1985, she has been exclusively dedicated to professional illustration.
She works for many publishing companies, in Spain as well as in other European countries. And regularly collaborates in newspapers and magazines, such as Cavall Fort and El Tatano.
In 1998 Cristina won the 2nd National Prize for Illustration, awarded by the Ministry of Culture. In 2007 she was awarded the 1st Prize in the contest "Graphic Humour and Sport" sponsored by the Catalan Sports Foundation.
She has illustrated Hey, Not so fast and more recently the non fiction series:  The Human Body Inside Out,  We are Family & We are Different and I Spy With My Little Eye, published by Combel.