The latest title in the Victory series!
Family life can feel difficult sometimes. That's why Bambú started publishing this collection of short stories on personal growing nine years ago.
The simple and magnificent texts by Elisenda Roca accompanied by the amazing and funny illustrations by Cristina Losantos explore universal topics. All those habits, behaviours and values we do also need as adults to deal with everyday life: Good manners, consumerism, being unselfish and independent, keep neat and tidy, greet and communicate with others instead of swearing or getting glued to electronic devices….
Victory series has become an international success. Translated into 13 languages, it keeps spreading worldwide with every new title. 
The 10th title, Do Not Say Bad Words!, is aimed at those early readers who absorb all the swear words and curses that adults say. Children imitate them, because they think it's funny or it makes them feel grownup. They still don't know that these bad words are not polite and that it is better not to say them because they can offend people.
This story places a focus on grownups in the family who swear a lot, and we help children understand why they shouldn't copy them. 
Victory Series
by Elisenda Roca. Illustrated by Cristina Losantos
14.5 × 19 cm | 48 pages | Flexibinding with flaps | Includes bookmark | Ages 7 +
Rights sold: Czech, Danish, English (Aus), Farsi, French, Greek, Korean, Maltese, Polish, Portuguese, Russian, S. Chinese and Turkish.
ELISENDA ROCA is a journalist and writer. She has worked in radio and television, as well as in the press.
She has published successful parenting books, books for YA and for the little ones. Her most recent titles include outstanding illustrated books published by Combel such as You and I, with 40.000 copies sold, and her latest Brother and Sister.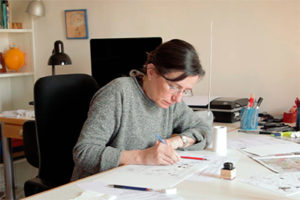 CRISTINA LOSANTOS After a few years of teaching and since 1985, she has been exclusively dedicated to professional illustration.
She works for many publishing companies, in Spain as well as in other European countries. And regularly collaborates in newspapers and magazines, such as Cavall Fort and El Tatano.
In 1998 Cristina won the 2nd National Prize for Illustration, awarded by the Ministry of Culture. In 2007 she was awarded the 1st Prize in the contest "Graphic Humour and Sport" sponsored by the Catalan Sports Foundation.
She has illustrated Hey, Not so fast and more recently the non fiction series:  The Human Body Inside Out published by Combel.