I Spy with my Little Eye. The City
Explore the city in this fun search-and-find book by Cristina Losantos!
A new book by the bestselling illustrator Cristina Losantos. With every turn of the page, there's a new busy scene to discover people over the course of a day.
You'll need peep inside buildings and search among the crowds to spot someone sleeping, playing music, classic fairy tales characters, an alien and many more.
This wonderfully interactive book draws children into the scenes and encourages them to become a part of the action.
Each spread depicts a colourful street, a market, a hospital, a park, a mall or the school and all kinds of items to spot, encouraging observation, conversation, and exploration throughout. Are you ready to zoom in?
Seek and find characters and follow them from scene to scene!
Cristina is already working in CRAFTS, the second title of the series. In this book readers will have to look for different characters in every page. But in this case, the common thread will be a red truck that will go through the scenes collecting tools and materials until the unload for the grand finale: neighbours join forces and skills to decorate a street for a popular festival.
In each scene, they will spot the different jobs that we do in our daily lives:  drivers (firemen, taxi drivers, pilots and boat captains), caretakers of people and animals (teachers, doctors,  vets and dog walkers), artists and  makers (hairdressers, architects, wall painters), food workers (bakers, butchers, fishermen and shepherds), those in charge of houses, villages and towns' maintenance (electricians, plumbers, rubbish collectors) and others as unique as sportsmen, detectives, journalists or astronauts.
I Spy with my Little Eye… The City
by Cristina Losantos
23 × 28 cm | 16 pages |Hardback | Ages 3+
Publication: February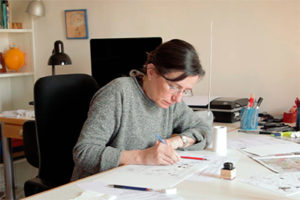 CRISTINA LOSANTOS After a few years of teaching and since 1985, she has been exclusively dedicated to professional illustration.
She works for many publishing companies, in Spain as well as in other European countries. And regularly collaborates in newspapers and magazines, such as Cavall Fort and El Tatano.
In 1998 Cristina won the 2nd National Prize for Illustration, awarded by the Ministry of Culture. In 2007 she was awarded the 1st Prize in the contest "Graphic Humour and Sport" sponsored by the Catalan Sports Foundation.
Besides The Human Body Inside Out she has illustrated Hey, Not so fast published by Combel. Cristina is also the illustrator of the bestselling Victory series, sold into 13 languages.