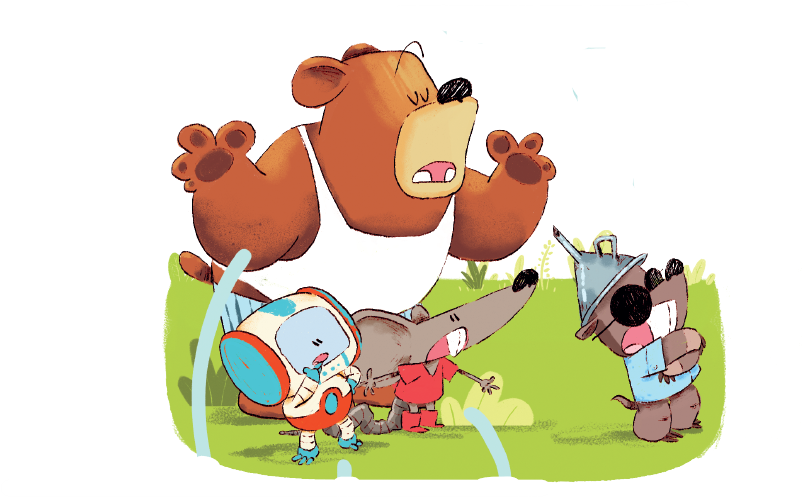 The good, the king and the Funnels
Extra! Extra! We have good news, and bad news.
Let's start with the good news: Bitmax & Co #9 Mus' Cousins has been on the Catalan bestseller children's list for more than 6 weeks now. Oh, wow!
Now the bad news: Ravel has disappeared! Oh, no!
After searching everywhere, Bitmax and his friends find out that, due to his poor eyesight, Ravel has fallen down a hole. Bitmax teams up with the forest people to jump in and rescue him. But Ravel has been abducted by the Funnels, nocturnal and noisy beings, who have proclaimed him king: the King of Funnels, no more, no less.
It doesn't stop there: Ravel has lost his memory. Let's face it: until he regains it, it will be very difficult to convince him to return home.
The solution lies in the Iverson Library!
The inhabitants of the Blue Forest were convinced that the funnels didn't exist, that they were a legend, but at three o'clock in the morning they discover that they are very real… too real! In order to sleep again, and help Ravel return to the Blue Forest, Wagner and Mus need to know all about the Funnels. And what better place than the Iverson Library?
In The Book of Forest Legends, they find all the information: what the Funnels look like, how they dress, what they are afraid of and what their customs are, and why it is so dangerous to break a pact with them. With these clues, will Bitmax & Co make it?
Read the book and help the forest people to sort this out. We wish you the best of luck in your search!
PS… And watch out for the Funnels! Shhh…