The new board game of Bitmax & Co!
Bitmax and his friends are the stars of the new board game of Bitmax & Co. A set of four games in a box, designed for children aged 4 to 8, with different levels of difficulty. Kids fun guaranteed!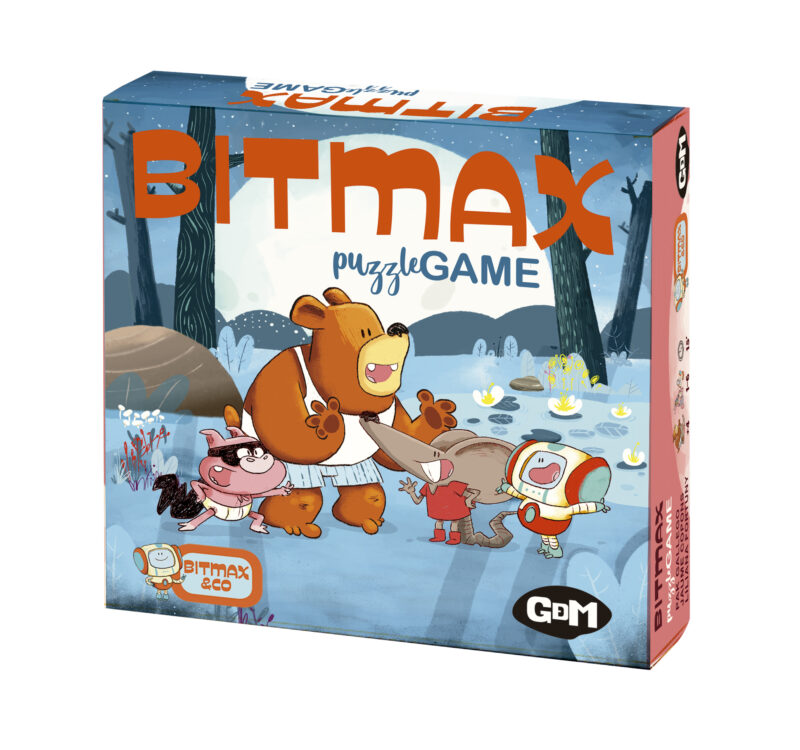 The game starts with a classic pastime: a puzzle. If you do it, you will see Diogenes and Galileo playing cards while Faraday skips stones across the water. A daily scene in the Blue Forest.
"The Seeker": Play and win
Playing distracts us, but it is much more fun if we share our game with friends. It also allows us to exercise and test our memory, and to let our imagination run wild…
Sometimes, however, we also like to play and win, like Superpig . If you are as competitive he is, we recommend "The Seeker". Starting from the puzzle, face down, each player must locate two of the characters of the Blue Forest; the winner is the one who finds them and places them in their corresponding position on the poster first. It may seem easy, but it is not.
"The Helper" and "The Character": We are a team!
Most of the Blue Forest people prefer teamwork and play cooperatively. Wagner and Mus would play "The Helper". It also starts with the puzzle pieces face down. But, in this case, you need a lot of memory. You have to turn the tiles over and try to put them in place.
In "The Character" game, you have to find the chosen character and put him or her in place with as few moves as possible!
In both cases you can play alone, but if you do it in company it will be more fun. Like the people of the Blue Forest always say…
Read, play and be happy!
Bitmax Puzzle Game includes: 36 tiles, manual and resolution sheet | Box of 5.7 × 20 × 20 cm, 0.427 kg weight